How do you describe life during the COVID-19 emergency? It's fair to say this is a crazy time, and literally everyone has made (and continues to make) major adjustments to life.
Conversations on a recent ECS team call went off on a tangent, as discussion turned to what we are missing during the pandemic. We thought it would be interesting to share what each one of us is longing for right now.
And here it is, straight from the mouths of ECS team members:
Jason Fisher:
For me I miss haircuts, sitting at a coffee shop and people watching, and not feeling like every outing is a "prep, do, decontaminate" process!
Chris Lee
What I have taken for granted: Time! Time is precious, and I am making the most of every minute. But I miss watching my boys play lacrosse and my daughter play volleyball. I miss getting a haircut and a shave at my barber (Shaving Grace – shameless plug!). I miss going see a Sixers or Flyers game, and I miss going to rock concerts. And, I truly miss seeing my parents (who are over the age of 70).
Hilary Norris
What I miss most is spending time together with friends and colleagues. While video conferencing is great it is not the "real" thing.
Laura Schlessinger:

The beach is what I miss most since the beaches and boardwalks in NJ are closed because of the pandemic. This time of the year is not usually associated with visits to the beach but for me and my husband, spring IS a prime time to walk on the boardwalk (and is the only time dogs are allowed on the beach).
We live a half hour from the beach and frequently drive to Belmar, NJ and go for a walk or throw a tennis ball to my Golden Retriever, Riley.  After our walk we usually grab some seafood at a restaurant called Mr. Shrimp, and then go for coffee at a local coffee roaster called Turnstile. This simple pleasure is on hold now, but I realize this too shall pass.
Bill Morrow:
I'm not a big city guy (I like my quiet suburb), but there is something about New York in the spring. We usually make a simple trip into The City in April, visit some of the typical tourist spots and in general people-watch and interact.  And of course, no trip to NYC is complete without food – we like to finish our day at Becco's.  Let's hope we can do that soon again!
Rob Williamson:
I'm most missing not being able to travel. I missed out on a long-planned, four-day trip to Mexico City that was scheduled for March. I'd done extensive research for this trip – so it was very disappointing to not be able to go.
Dave Posten:
I think one of the things I took for granted the most has provided a pathway to new skills and knowledge (editor's note: more on that coming in the "Silver Lining" post"!).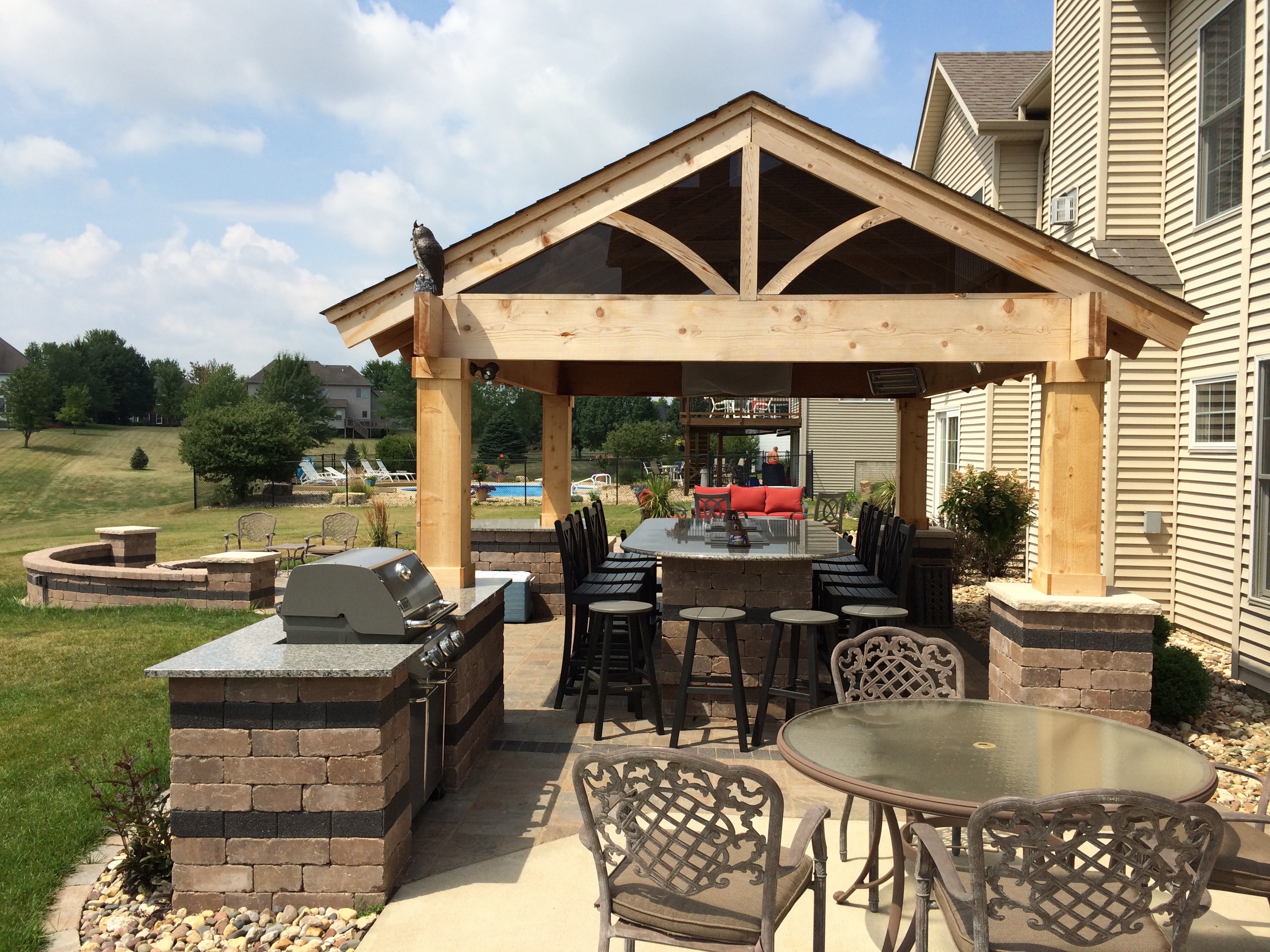 What I miss: my family and I really enjoy socializing within our neighborhood. We have numerous "impromptu" backyard happy hours that turn into grill sessions, bags tournaments, sports viewing and music playing each month. Although our neighbors have great set ups too, the nature and location of our backyard patio/pavilion/grill/tv/sound system/fire pit lend to it being the central gathering area [see picture to right!].
With social distancing, these gatherings have ground to a halt.  As I walked around my outdoor patio space and even began setting it up for the future, I quickly realized there were many things that needed my attention so that the patio was ready to go when we are allowed to return to whatever emerges as the "new normal".
Karen Butz
Besides the typical missing friends and family, I would say one of the things I miss the most is that feeling you get when you've been away from your home either for an entire day or weekend, or a vacation, and you walk in the front door and think, "ahhhhh, I'm home."  It's hard to feel that when you are ALWAYS home 🙂. I also really miss being able to order my groceries online and not have to wait a week and actually have my items come.
When I asked my kids what they think I miss the most my 12-year-old quickly piped up with 'your sanity'. (Ha!) So there's that too.
Margo Michel
What I miss: You know that amazing feeling of pure enjoyment when you are at concert?  Hearing music live produces a level of energy that just can't be replicated; even when listening to your most beloved album.  I'm finding the same holds true with Zoom get-togethers.  No doubt Zoom has been a lifeline for keeping me connected to friends and family but like the album vs. concert dynamic, it's not the same.  I miss sitting across the table from my friends and family and sharing live conversation and laughter.
Laurel Cavalluzzo
I most miss the fact that many activities my family loves to do have been shut down: the barn with our favorite four-legged equine friends. The soccer fields that are a great physical and mental workout, plus include fun socializing on the sidelines. The pool that showcases one's speed to get quickly from one end to the other, along with the diving boards that allow one to exhibit both strength and grace.
And of course, it is difficult not to see the extended family members who are so near and dear to our hearts. Yes, there is the ability to speak and to Zoom/FaceTime, but the inability to hang out in person and deliver a heart-felt hug is difficult.
Look for a "Silver Lining" blog post next week, where our team shares some of the unexpected benefits derived from our new way of living and working.