Life under the COVID-19 emergency continues, though there is now a shift in the discussion as to how and when people will return to work. While some states are starting to open (to differing degrees), it still is a crazy time and we continue to evolve our ways.
Part 1 of this two-part series gave insight as to what the ECS team members miss most from pre-COVID life.  Now, Part 2 features more from ECS team members as we all share the "Silver Lining" from the pandemic and describe some of the unexpected benefits derived from our new way of living and working.
And without further adieu, here are the silver lining stories straight from the mouths of ECS team members:
Jason Fisher:
The silver lining for myself and my family is that closeness we have been able to get with our expanded family through Zoom calls, etc. Either no one had time or we could not coordinate everyone for the same event because all of the hurried aspects of life, sports, events, chores, etc. that were never timed well. NOW, we have plenty of time and in some way this pandemic has brought us closer to each other – even though not in a live sense.
Hilary Norris
My silver lining is simply getting back to basics, and living more simply. It is getting enjoyment about things we had started to take for granted. For example – a home-cooked dinner every evening; sitting round enjoying it with your family.
Chris Lee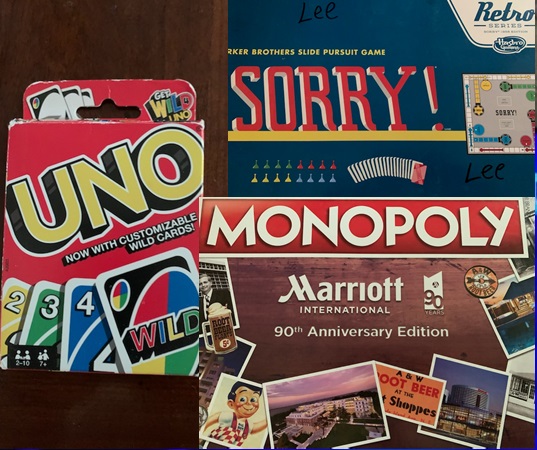 One thing we have been able to do during the pandemic is get "back to the basics" of family fun. No electronics: TV, Netflix, X-box, TikTok, Facetime, etc. We have family game night once a week. It is great to spend quality time with the wife and kids. We are now expanding family game night to two nights. 😊
I myself am making the most of every minute. I'm spending more time on my other interests: gardening, playing ball with the kids in our yard (lacrosse, volleyball), walking the dog on trails (practicing good social distancing) and reading (the new books I'm working on are Shoe Dog and Traction).
Which of the games featured in this picture do you think Chris has the most skill?  Take your guess – we have ours!
Laura Schlessinger
The "silver lining" for me is I have noticed is the stars are brighter (maybe from less pollution) and the singing, chirping and tweeting birds are clearly heard in the absence of cars, airplanes, and the other noises we normally hear outside.
Bill Morrow
My family has discovered new foods and markets – one example is a local Asian Market that has amazing foods and fresh veggies!  Loving the bok choy! (The featured image at the top of this page is some of the bok choy Bill and his family are enjoying.)
Rob Williamson
I consider the glass half full for many reasons – one is that I'm taking the opportunity to make a major dent in my unread books shelf (still groaning at over 20 books). I have cranked through numerous World War 2 books – as well as my favourite genre of historical crime fiction.
Dave Posten
Even though it has been a big disappointment that the neighborhood gatherings in our backyard ground to a halt due to social distancing, there has been a silver lining to the pandemic. As I walked around my outdoor patio space in early spring to and thought about setting it up for the future, I quickly realized there were many things that needed my attention so that the patio was ready to go when we are allowed to return to whatever emerges as the "new normal".
I found myself tackling jobs like replacing and repairing thermocouples in outside heaters, removing and re-sanding my outside paver patio, and replacing my outside ceiling fans. These are all things that I found I could do, I could save some money by doing them myself PLUS I'd get to spend some 1-on-1 time with my son.
In the past I would have quickly jumped to hiring this work out, in the name of efficiency, laziness and safety. What I found is that it was fun to learn a new skill and even better to learn and share it with my son. Now, our patio will be more ready than ever for the inevitable return of the Posten patio parties.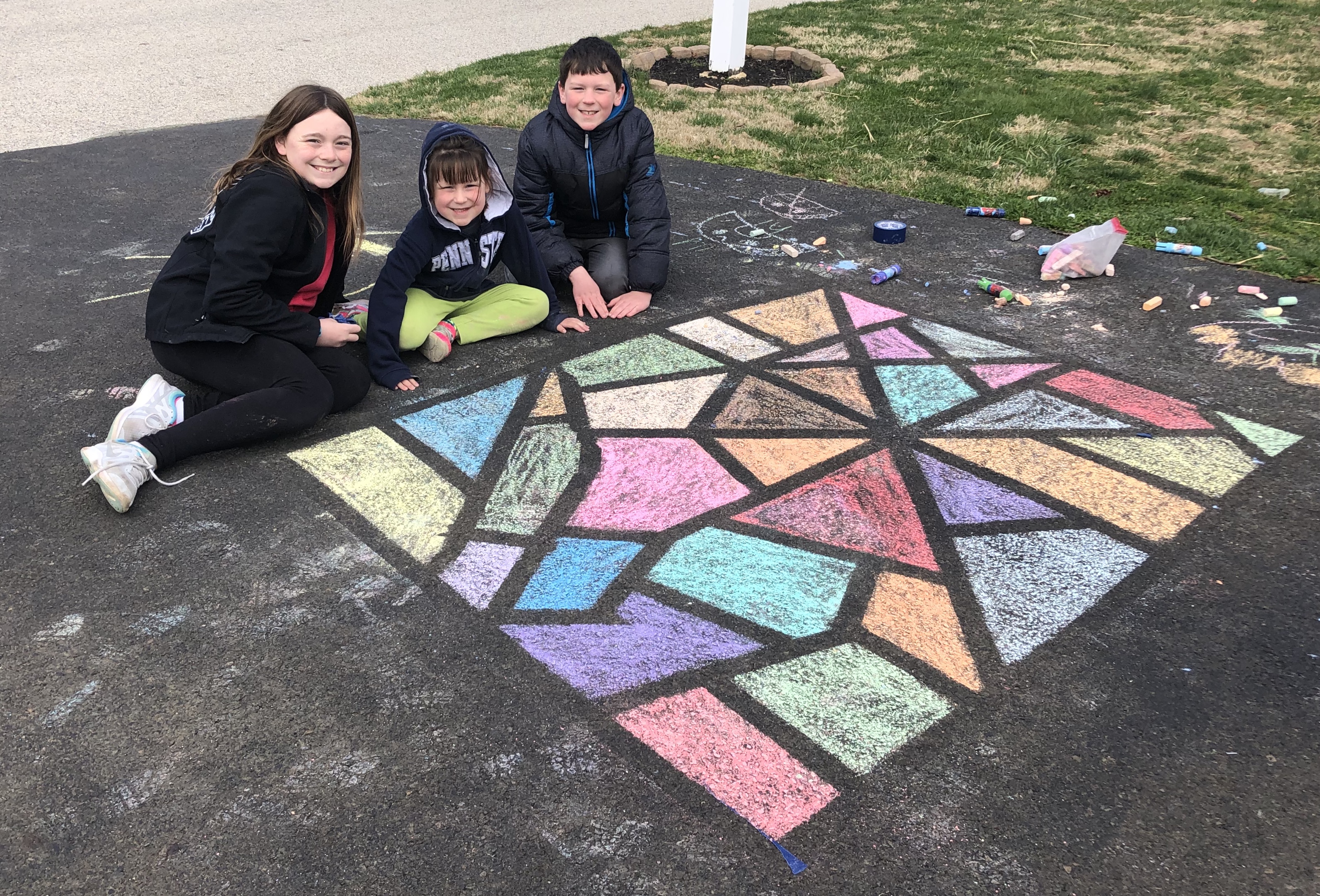 Karen Butz
Some unexpected benefits is that I actually get to 'see' my family more than usual through Zoom and Houseparty.  We've had some hysterical games of 'your draw it' on Houseparty that had us all crying we were laughing so hard. We wouldn't typically have the time to do those sort of things.  We are definitely feeling a greater sense of community.  My daughter recently turned 12, and neighbors came out with signs and two local fire departments came through with the fire trucks. It was amazing. We've also enjoyed lots of extra family time to do things we typically don't have time for – because in normal times we are running around with kid activities. (The artwork of Karen's kids is featured to the right. Gorgeous!)
Margo Michel
Since my favorite coffee shop with amazing baked goods is closed I decided to give baking a try. After some spectacular failures I will never again question why a coffee shop scone is so expensive.
Laurel Cavalluzzo
The silver linings have been many – and so many of them have been unexpected! As a parent, it has been fun to see my kids branch out into their other interests and discover some they didn't even know they had. The youngest is in middle school, and with a light school workload he has fully embraced cooking and baking (especially breads), painting rooms in the house that need to be painted, and working in the yard. The two in high school (both girls) have grown even closer in their friendship, and have joined together on everything from fitness to Rubix cube challenges, and are very proud in their ability to teach their parents how to play Newcomb (a variation of volleyball).
And the icing on the cake is the consistent evenings with the family together. This has been simply wonderful and the unexpected time together has brought us so many memories.
The entire ECS team hopes you and your family are staying healthy and well during this difficult time.