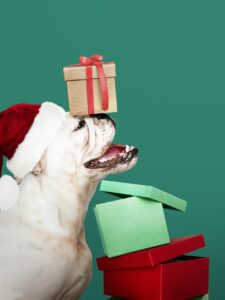 We continue the countdown to the end of the year and are very much in the thick of the holiday season. As gift shopping winds down (or ramps up for a couple of us very quickly!), we are all looking forward to spending time with our loved ones.
Which leads to our question – what is the ideal holiday gift for you and your business? That can be a tough one to answer, but we had some fun coming up with ideas (and books to go along with each):
The gift of time
Who among us couldn't use more time in the day, either for business reasons or to enjoy our family, friends, and personal lives to a greater degree?
Take the time to live in the moment and enjoy the little things. If, like many of us, you struggle with too much going on, this book may help you identify what's truly important to you and your business – Essentialism: The Disciplined Pursuit of Less.
The gift of process
Organization and a structured process approach to conducting business lead to efficiency, which means no resources are wasted (whether time, talent, or other).
Business people must have the creative side with the ability to "go with the flow" and adapt to new circumstances quickly and seamlessly, but at the same time leaders must ensure there are processes in place and an organized, analytical approach to making business decisions.
It is a bit of an art and a science, and the finest businesses make this look easy. A short and quick read from HBR that some swear by is Improving Business Processes.
The gift of talent
It's getting harder to find and retain good talent these days, but we all know great talent is at the core of a successful business. And part of this "gift" is having outstanding leadership to cultivate and develop this talent.
Organizations must attract the talent they need, and then develop and motivate this talent – with the ultimate goal to retain these fine workers. A famous HR book – truly, and oldie but goodie – that managers will enjoy is First, Break All the Rules: What the World's Greatest Managers Do Differently.
The gift of persistence and determination
Obtaining excellent business results and growth takes time … along with persistence and patience to achieve great results. Taking a short cut can be disastrous and set you back.
The best businesses understand that while quick action is sometimes necessary, it is the business with an overall plan that stays that course over the long haul that pays off in spades. While not a business book, if you want to be inspired about never giving up – no matter how tough times get – check out the true tale told in Unbroken.
The gift of planning
This idea of the overall plan mentioned above leads us to one of our favorite quotes: "hope is not a strategy". And it is absolutely true. Having a plan, a strategy, a roadmap of sorts is essential for every business.
With one, great business results can happen. Without one …. we can almost guarantee that you are will have disgruntled employees who do not do their best work, because they don't understand your vision and plan. Check out The One Page Business Plan to be inspired to get your plan on paper – concisely.
The gift of fantastic clients
It is icing on the cake when a business has wonderful clients – we are incredibly thankful for our amazing clientele at ECS! Positive-thinking, motivated clients who join forces with us are who we look to partner with – and we appreciate the gift of outstanding clients who we have the privilege to work with each and every day. Once you have fantastic clients, you want to be sure to keep them – a classic book on this topic is Be Our Guest: Perfecting the Art of Customer Service (Disney Institute).
The intangible gifts described above are truly hard to wrap up and to include a bow, but they are among the most priceless, most valuable gifts you can give to yourself and your company.
We'd love you to share with us what you love to get and receive.
Wishing you all the best for the rest of the holiday season & the last days of 2018,
The entire ECS Team