"We need people in our lives with whom we can be as open as possible. To have real conversations with people may seem like such a simple, obvious suggestion, but it involves courage and risk."
~ Thomas Moore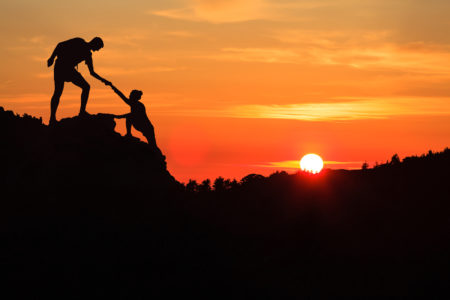 My partners and I had lunch together last week (something we try to do regularly) and discussed our recent run of successful engagements.  Jason remarked that it seems we are working with more and more clients who quickly trust us to plan, and then move forward to implement and change large sections of their business.  These companies all displayed a great deal of trust that the plan we laid out was what we'd execute against and would make them successful.
The result has been fantastic for our clients – and rewarding for us.
My takeaway from this lunch conversation is that trust is the cornerstone of success in every organization.  And while trust is so critical, it is also very fragile. For some of our clients, trust has been eroded before we enter the picture, and we have to start by building that trust back up before we work on process or any sort of plan.  For these companies we find it's a difficult – but absolutely necessary – conversation to tell the leaders of a company that they've lost trust and need to find a way to regain it.
If you don't trust your team, then they won't trust you, and the end result is a death spiral.  Either you as the leader get to the point that you are working all the time and all decisions come through you (since you cannot trust anyone else to do any tasks of importance), or your company dies (and perhaps even you do too, since you have put yourself in a position to do everything).
3 things you can do to build trust
Be transparent – And when I say transparent, I mean completely transparent. Too often we see leaders wanting to "whitewash" the message, these leaders end up being disingenuous with their teams. If you've got a good group of people, then they want to hear both and want to help fix problem.  Let your team become a part of the solution.
Communicate – Start with a plan, work that plan and then communicate how things are going. Don't leave long gaps when you're not letting people know – or worse yet, change direction without informing everyone ASAP. They'll find out either way soon – as leaks happen.  Be up front and let everyone know how things are progressing.
Follow through – If you say you're going to do something, no matter how small, do it. This is one of the simplest yet most important ways to build (or rebuild) trust. It's the little forgotten things, and the deeds left undone that often will be your undoing.
Leaders who build trust ultimately build companies that are based on trust. This will mean at times showing you as the leader are not perfect and have your own shortcomings.  It's OK to step up and be vulnerable and let your team know you've made a mistake or don't have the answer – and in fact it humanizes you.  It is ok to let those on your team know mistakes are not the end of the world – it's how one responds to and fixes mistakes that often define a person's true nature.
When you build a trust-based team, the results are incredible.
Have you built a team this way and seen success?  Do you create trust in other ways?  We'd like to hear from you and how you've done it.  Reach out and let us know!   Bill Morrow – Managing Partner – bmorrow@thinkempirical.com  – 610-310-6707.