The thankful receiver bears a plentiful harvest.  ~ William Blake
All of us at ECS are thankful for everything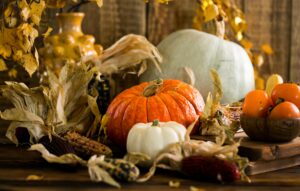 that 2019 has brought and for our bright future ahead. A heart-felt thank you goes to our clients, our strategic partners and to those in our extensive referral network – you all have had a hand in helping ECS reach new heights.
Each of us would like to share what we are thankful for as we prepare for the upcoming holiday season.
Happy Thanksgiving from our entire team!
Jason Fisher:
I am thankful for my crazy, dysfunctional family that always seems to "figure it out" – life would be so mundane without them! I am also thankful that in a time when so many people are distressed, we, as a family, take the time to give back in different ways and don't take for granted how fortunate we are.
Chris Lee:
I am thankful for the success that Empirical Consulting Solutions has enjoyed to date. Our success would not be possible without the hardworking, talented and committed team we have assembled, and the loyal client base to whom we have the pleasure of delivering our promises!
Bill Morrow:
This year there seems to be so much to be thankful for!  I am thankful for …  watching my kids grow into amazing young adults and overcome all the things that life throws at them … my wife for supporting me and simply "being there" through a rough summer … and an incredible group of people at ECS who have propelled the company to incredible results yet again this year.
Hilary Norris:
I am thankful for … the Turkey Trot that enables one to eat a great amount of food and not feel guilty … not being on a plane … having my daughter home so we can do "girl things".
Dave Posten:
I'm thankful for the men and women who have and will sacrifice so much for our ability to celebrate times like these with our families. I am thankful to have known and shared time with those that we have lost this year, as well as in years past. And I am very thankful for those people in and around my family that help keep us all on track!
Karen Butz:
I am thankful for family, friends and our good fortune.  On a professional level, I am eternally thankful to work for a firm that does amazing things and allows me to contribute in a way that fits in with my family life. This is very difficult to find … and I really feel lucky to work with the ECS team.
Laurel Cavalluzzo:
Personally, I am thankful for having a wonderful, healthy and loving family, as this is something that one simply cannot take for granted.  Professionally, I am thankful for the wise and dedicated ECS family – never underestimate the importance of and satisfaction gleaned by doing meaningful work with a fantastic team!
Don Marks:
This past year has brought some major challenges and changes to our family, which bring the reason for this particular Thanksgiving into a much clearer view for all of us. We have always been a very close knit (and yes, sometimes dysfunctional) family, but as this year comes to a close there seems to be an even greater appreciation for Thanksgiving 2019. It's not just the food, it's not just the fun – but more than ever the FAMILY that means so much this season!
Margo Michel:
2019 was a year of changes for me: we sold our house where we lived for almost three decades and downsized to a townhouse; our daughter got married; I joined the ECS team. I am thankful that I am absolutely thrilled with these changes – and have no regrets!
I'm also thankful for Thanksgiving itself.  Each year my husband's large, messy family gathers for three days to cook, eat, drink, laugh, argue, nap, bowl and play football. When Ian and I got engaged he told me that Thanksgiving with his family is non-negotiable and I hear the next generation telling their partners the same thing.  I'm not sure what it is about Thanksgiving (the green bean casserole??) but it has proven to be a bit magical when it comes to keeping our family together.  I guess it's a constant that has created the perfect intra- and inter-generational bonding time that makes all of us want to gather again not only in November but throughout the year as well.
Laura Schlessinger:
I'm thankful for faith, family and good health … and for the days when 'Bama has football victories.