The Power of Music – and how I use it in my daily life  
"Music is a moral law. It gives soul to the universe, wings to the mind, flight to the imagination, and charm and gaiety to life and to everything." – Plato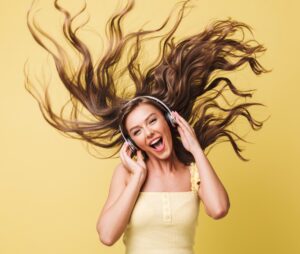 The power of music has always played an important part in my life (and probably yours as well).  Some of my earliest memories are of my grandparents listening to Tommy Dorsey, Frank Sinatra and Hank Williams – these all really made an impression upon me as I saw the joy it brought to them.
As I grew up in the '80s, I gravitated to the heavy metal/glam metal bands of the time.  That heavy loud music was perfect for getting pumped up for my highly competitive 6th grade church basketball games.  My team's entrance song to get us going – "Shout at the Devil", by Motely Crue – we thought it very appropriate.
Today, while I still enjoy Motley Crue, I have branched out and expanded my music base quite a bit; I listen to different genres of music based on the situation.  I find music helps me stay focused, gets me pumped up for things I don't enjoy, and ultimately makes me more productive.
Here's what I listen to and when I'm:
Cold calling/things I'm not excited to do:  For those of you who are regular readers of ECS blogs, you know I'm the sales lead.  Admittedly, I don't do a lot of cold calling by myself (I most often do it in conjunction with reps at client companies). However, I did a ton of cold calling in my past life.  I found that the hard rock of the '80s worked well for me.  Van Halen, AC/DC, Ratt – they are all perfect!  My wife, who's also in sales, tells me anything that has a beat and invites her to sing along helps her get ready to have the conversation.  Her favorite – Bruno Mars.
Tasks/rote project work:  You know those times you have to respond to email, update forms and in general do that grunt work that doesn't take a lot of creativity but does need focus? We all know those times.  Jason Fisher, ECS Managing Partner, likes Thievery Corporation and Hilary Norris, ECS Partner enjoys Morcheeba* while getting the work done.  Not only is this great music, but these tunes give you a great grove to move throughout your day.
Creative projects:  Here's where I really switch gears. When I have to dig into projects that require creative thought and processing, I go right to classical music.  My favorite is Mozart.  I find this composer increases my ability to put together complex issues and find solutions.  It settles me down and allows me to focus on "the right now" – which is something I try to do every day now, thanks to the mindfulness training I received from Harriet Stein.
*Hilary has a great tale about where she first heard Morcheeba. Some years ago, she was in Southern France on the Atlantic Coast, in a part of France that is the surfing mecca of the region. Vacationing in the early summer with her husband, she was at a little French café – one that was very popular with the surf pros who came to the café in the evening to chill out over some local wine and food.  Hilary now thinks of Morcheeba as "down time music" for surfer guys & gals….
Do you find music to be an important part of your business day?  What are your favorites?  Leave a comment or reach out to me and tell me more!  I always like to talk music (in addition to business transformation….but of course).  Bill Morrow – bmorrow@thinkempirical.com or 610-310-6707.