Our recent webinar on how to best prepare for an economic slowdown sparked great discussion.  It's quite clear that it is a top-of-mind concern on what to do and how to prepare for the future, as some excellent questions came in from the audience.
One area where we received several follow-up questions, and where there continues to be a good deal of discussion even afterward, is in the area of Sales Effectiveness.
Empirical's Ajay Joshi discussed a metric that has been receiving increased attention with fully remote teams: "Percent Time Spent on Selling Activities".
Ajay presented data from an Empirical client (see slide below), an Automotive Parts Manufacturer with members of their 12-person sales team located across the US.  Empirical worked with this team and instructed their Sales Account Managers to track activities during their working hours over a four-week period.
The findings? The sales team was spending only 34% of their time on actual selling activities.
We then implemented an improvement plan to guide the sales team and ensure they focused on actual revenue generation activities.  The results were powerful. Within six months, the team was selling 47% of the time with improved sales performance – the average quota attainment increased by 9%.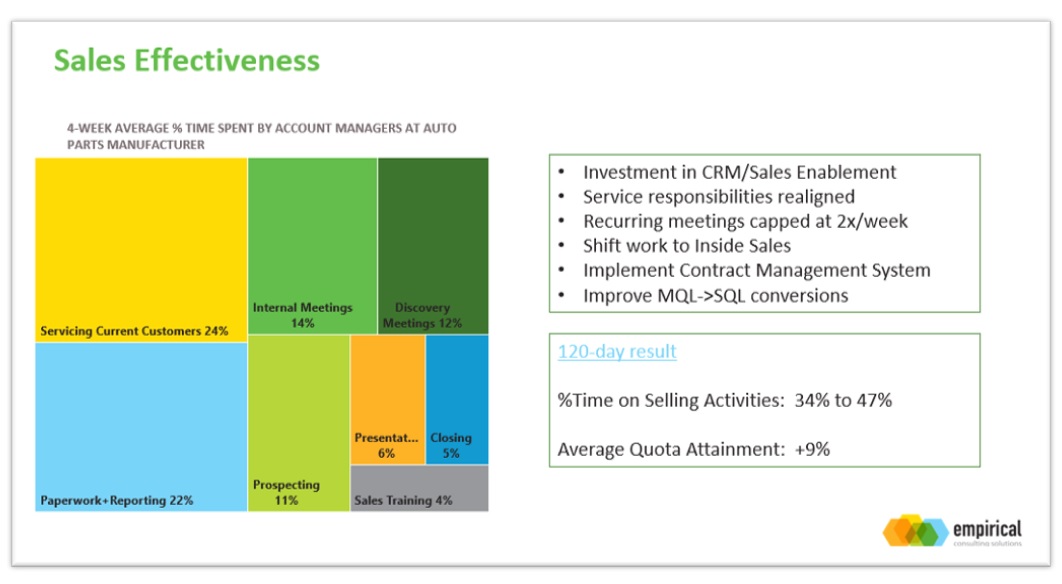 We've put together a list of Q&As to further clarify this concept.
Q:  What qualifies as selling activities?
A: We include as sales activities all those actions that move prospects through the sales funnel – Prospecting, Discovery Meetings, Presentation, Negotiation/Closing. We do not include customer service, reporting, internal meetings, and sales training.
Q: Are there benchmark targets for % time spent selling?
A: Our experience has been that when we start working with teams, the sales team is spending in the range of 25%-35% of their time on sales activities.  This percentage is also supported by research conducted by Hubspot and others. A target percentage can be difficult to come by, as there are many variables at play (type of industry, sales motion, company size, etc.). However, most managers agree that a target of 50% of time spent on selling activities is a good starting point.
Q: Why not just focus on revenue-based productivity?
A: While revenue-based productivity metrics (for example:  value of new sales per rep) are important, they tend to be lagging indicators of performance. Time spent selling might shed light on immediately actionable items – for example, when reps are spending a considerable amount of time preparing reports or in meetings.
Keep in mind that most salespeople want to be out selling and winning new business, and enabling them to do so gives them better job satisfaction and produces better results.
Q: Are there any easy wins to improve sales productivity?
A: Since sales organization and environments vary greatly, we recommend first conducting a time study before implementing a solution. Doing research first allows for a prioritized course of action.
However, there are a few common culprits we find across industries and organizations where you should be on the lookout:  unnecessary sales meetings, poor use of CRM (customer relationship management system), and lack of consistent processes that make sales teams less efficient.
If you would like to talk more about this topic, our team is ready to connect.  Our presenters of this webinar were Chris Lee and Ajay Joshi, and our moderator was Bill Morrow.  Reach out to us at hello@thinkempirical.com or give us a call (610) 994-1139.