"Life is ten percent what happens to you and ninety percent how you respond to it." – Charles Swindoll
This blog was penned by one of our new Human Resource associates, Laurie Beasley.
Growing up, I quickly mastered blooming where I was planted. You see, when you move seven times by the seventh grade, you learn to bloom in all circumstances. My dad was in the Air Force Reserves but that was not the reason for our moves: he just followed the next job and didn't settle. That trait of not settling ended up rubbing off on me.
"Be Somebody Who Makes Everybody Feel like a Somebody" – Brad Montague
At the age of four, I dreamed of being a teacher. My mom bought me schoolbooks and I would play school with the neighbor kids and my two younger siblings. Time passed and I attended college at an incredible liberal arts school in the middle of nowhere, Missouri. I ended up getting my degree in Communications. I have the gift of gab and love public speaking, so this major suited me well.
While in college I was a Resident Advisor for two years, and an on-campus Apartment Manager during my senior year. I loved my time in residence life so much that I decided to go to graduate school at the University of Minnesota-Twin Cities as a Graduate Assistant in an all-freshman dorm. This opportunity afforded me the ability to go to grad school, and gave me an incredible experience serving as a "dorm mom."
I initially went to grad school to pursue a Masters of Education in Higher Education with thoughts of continuing to work in residence life. But, the classes did not interest me so I chose the other option, a Masters in Education in Human Resource Development. These classes excited me as they focused on training and development and organizational development. Oh, as you can tell, the little girl who was going to grow up to be a teacher, took a different turn, for now.
As part of my master's program, I did an internship. I had a great relationship with my food service director who suggested I speak with the Human Resources Manager about interning with her. That internship led to an 11-year HR career with ARAMARK. I worked as an HR professional in the food service side of prisons, jails, and colleges. I was very proud of my career path and moved wherever the company needed me. My time at ARAMARK enabled me to meet the most amazing people, see more of the country, and practice all aspects of human resources (my favorite being training and employee relations).
Then … this amazing human walked into my life. Marriage and kids happened, and I decided to take a career pause. I started teaching part-time at a community college. I loved being in the classroom while still balancing my life as a mom of five kids with a husband in the military. "Army Strong" they say; I was "Mommy Strong".
One thing people who know me would tell you is, like my mom, I never met a stranger. This personality trait landed me a teaching job at a low-income school. I was with my mother-in-law at the school's district office so that she could fill out paperwork to teach. One of my kids had to use the restroom, and as I was on my way back to wait for my mother-in-law, I said hi to a friendly-looking woman. One thing led to another, and not only was she the HR person and I shared my passion for teaching and dream of being in an elementary classroom, but she had an immediate need for a 1st-grade teacher.  I interviewed for the job and started the following week.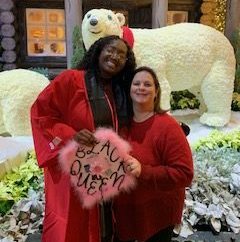 That little girl who dreamed of teaching was having her dream realized!
It was the most challenging, yet rewarding job. We were the Beasley Bees and I loved my bees. I had one student who didn't know a single word of English and had seen such atrocities in his African refugee camp. At first, he tipped over desks in anger and cussed. Then one day I started playing basketball with him at recess, and he quickly became my favorite and started reading and doing math with me. I never got tired of him saying "I love you Mrs. Beasley." These kids, from tough life situations, showed me resilience and taught me more than I could ever teach them. It was truly life-changing.
"Be yourself. Everyone else is already taken." – Oscar Wilde
When I met my husband, he had been married and had a child. When I said "I do" on October 1, 2005, I also said "I do" to his daughter. From "hello" I knew I was not going to be a stepmom and her a stepdaughter. Immediately, I was a bonus mom, and she was my bonus daughter. Our love for each other grew during every visit. One amazing day, the trajectory of her life changed when we got custody of her. From that day on, she became my mini-me, even though she is many inches taller than my fun-size self. I am mom, and she is my daughter. It is unusual, special, and a relationship I cherish deeply.
"You don't have to give birth to a child to love them like you did." – Laurie Beasley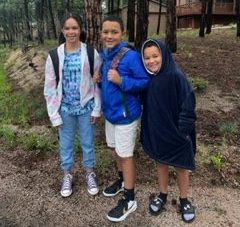 In addition to Simone, we have four absolutely awesome kids together: Alex, Miriam, Justin, and Shane (the last three we call "the three stooges"). I also have two cute fur babies, Holly and Chipper. There is never a dull moment with the Beasley Bunch whether from music, laughter, movies, games, or adventures. Part of our family journey also included being a foster family. We have fostered several babies over the years and our goal is that they leave our home better than when they came to us. Through fostering, my kids have learned unconditional love and I would hope they appreciate what they were born into. We all have different purposes in life, and one of mine is being a mom whether through marriage, birth, or fostering.
And apparently, I am a glutton for moving: I married an Army soldier. In 15 years, we have eight moves under our belt. However, On December 1, 2020, he retired after 27 years and eight months and we have settled in Colorado.
"We make a living by what we get, but a life by what we give." – Winston Churchill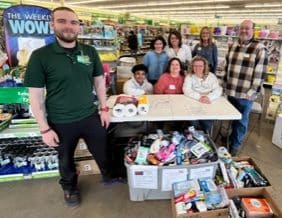 A huge part of who I am is volunteerism. I was or currently am very involved in the kids' classrooms, PTO, military family days, Rotary, and the local food pantry. "Service above self" is my motto and I role model that to my kids, who also love community service.
 "If you can do what you do best and be happy, you're further along in life than most people." – Leonardo DiCaprio
My journey in residence life, human resources, and education paved my path to Empirical Consulting Solutions where I get to continue practicing my passion for HR while utilizing all the amazing skills I acquired along the way. I am part of a culture that feels like residence life, supportive and fun. I can rely on the patience and understanding education instilled in me when communicating with clients. And at the end of the day, I am doing exactly what I should be doing because like my dad, I don't settle. My bucket needs to be filled and I need to feel like I am filling buckets.
"If I am not good to myself, how can I expect anyone else to be good to me?" – Maya Angelou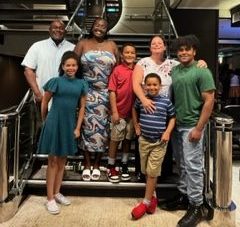 A fun side note about me is that I have a goal of seeing all 50 states by age 50 (December 2024). I currently have five states left with a plan to see Hawaii this year and the four missing New England states next.
I will leave you with one last quote: "Do what makes your heart happy."  I tell that to my kids so I am imparting this to you as well. Not every day is filled with unicorns and rainbows, but at the end of your life make sure you have lived with purpose,    loved hard, and laughed A LOT!
Laurie would love to talk with you about all things HR … and remember, she has never met a stranger! Reach out to her on LinkedIn or send an email (lbeasley@thinkempirical.com).