I'm a contemporary traditionalist; I'm a family man, avid traveler, and amateur baker who gets a little nerdy about marketing strategy and creative development.  My family, friends, and dogs are the most valuable things in my life and my fifteen-year-old son is the most important. I love to be active outdoors, in the gym, adventuring with my boy, or having a crazy good time with a complicated recipe for French buttercream!
AN EARLY BLOOM
My childhood was not traditional, stable, or a particularly loving story.  I'm the middle child between two brothers and grew up in Upstate, NY with a single mother.  Mom was a product of dysfunction and alcoholism and unfortunately couldn't break the cycle, so we too grew up in a household driven by alcoholism, drug addiction, and all that comes with that.  Poverty, violence, and just about every type of dysfunction and abuse colored our formative years in a palate that children shouldn't see or experience.
WAIT – it does get better, I promise!  I knew with inexplicable certainty by the age of eight that I was not destined to repeat the multi-generational cycle I was born into.  See, I was gifted with an inherent strength and desire to contribute to the world, and that has been my mantra – give what you can and always leave a situation or person a little better than when you found them. I wouldn't change a thing about my humble beginnings because those experiences gave me an awareness and gratitude about and for life that I think are enviable.
While I was a very creative and social guy, I was not an athlete or an artist; my gift was that I was really smart. I understood in middle school that education was my path to something new, so I focused on grades and overachieving in everything.  I was insanely driven, focused, and a serial overachiever (balance came years later!).
TURNING ANGER AND PAIN INTO POWER AND DETERMINATION
In high school, I wanted to be either a teacher or a drug and alcohol counselor – that is, until I understood I would likely struggle financially for the rest of my life.  I wasn't willing to endure more of that, so I decided Business and Marketing were a path that would combine my passion for writing, creativity, and people.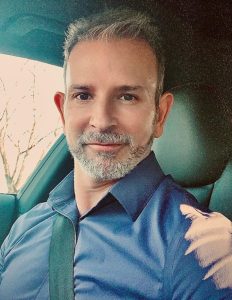 I was an avid reader and already on a journey of self-improvement and self-discovery. I learned about what made people tick. The topic of how environment and experience influence behavior fascinated me – and I wanted more!  For personal validation, I applied to Ivy League schools and well-known business schools and received the acceptance I needed; I then decided to use the government grants and scholarships I would receive for state schools. (No loans for me. Financial freedom and independence were too important.)
I worked and lived independently while I earned my BS in Business Admin with a focus on Marketing and International Business. I excelled at and loved formal education. Every class, every grade was one step closer to a new life. I took any job I could that felt remotely connected to a future career – phone sales, product delivery, weird market research projects for obscure software programs. I also completed my MBA and earned both of my degrees from SUNY (State University of New York) New Paltz. I stuck around for a couple of years after graduation to teach undergrad business classes as a side hustle. After grad school, I left the entry-level marketing and sales positions and took my first job in media and publishing with Dow Jones and the Wall Street Journal.
It was in the late 90s to early 2000s that I worked in a variety of marketing leadership roles for the Wall Street Journal community publishing brands. I loved it!  I had the pleasure of working closely with incredible mentors and colleagues who solidified my passion for media, strategic marketing, and creative storytelling. I led marketing and advertising initiatives for big brands like IBM, Intel, and Chevrolet, but probably my favorite role during these five years was as a columnist.
This opportunity came about when an editor I worked with on a rebranding project asked me to write a column about being an openly gay man living in our small, upstate NY community. This was incredibly rewarding.  This little side project led me to non-profit work which began a second, and now a 20-year long parallel career with non-profits. This "side gig" sustained me emotionally and spiritually while I worked full-time for large corporations doing "business stuff".
Throughout my twenties, my family mended, my mom got clean and sober, and much healing occurred.  I also reacquainted with my estranged father and ultimately moved him in. We developed an amazing, loving, and meaningful relationship.  I took care of my 'Papi' for nine years until he ultimately succumbed to lung cancer and died with me in my home in 2004.  At this time, I lived in Dayton (OH) and worked for Cox Newspapers, which I would do for the next 5 years. I ultimately landed in Atlanta at Cox headquarters as one of their youngest senior executives with the AJC (Atlanta Journal-Constitution).
FINDING MY PURPOSE AND MY STRIDE
Over the next twelve years, my career skyrocketed. I held senior-level marketing and strategy positions for Cox, Lee Enterprises, and CIPS Marketing Group, Inc.  I developed strategic plans and led high-performing teams that drove record profits for these companies. Some of this work I enjoyed (and even loved), but I wasn't a fan of the corporate greed and unrealistic expectations.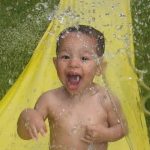 I relied on the non-profit work – primarily with organizations that focused on improving the lives of underserved communities, the poor, women, and children – for fulfillment.  This fed my soul, gave me purpose, and enabled me to keep feeding the corporate machine.  Ultimately, I found my rhythm and made peace with the life I created, made room for love, and in 2006 got married. We adopted our son, Zachary. This was when I understood my life's purpose – being a father!
While the marriage did not endure, we developed the most amazing friendship and have co-parented our boy ever since. My son, Zach, is literally one of the most amazing human beings to walk the earth, maybe because he doesn't have my genes (lol) but also because my need to love and nurture helped him grow into this exceptional young man.
A couple of years after my son was born, I was offered my first CEO/ President role with Lee Enterprises' Central California Media Division. A move to sunny California was part of the package – at the age of 35, I was one of the youngest Presidents in the company's history. Zach and I moved out west. As I reflected on where I was in life and referred back to the 'life plan' I made for myself many years earlier, I had peaked by attaining the highest level and title in the industry.  Now what?
After a few years, I was still grinding away – reorganizing companies for better profitability, consolidating physical locations for efficiency, launching digital products while print publishing floundered. Then the realization I was missing out on my son's childhood hit me and I decided it was time for something different (or so I thought).  I decided to get back to my roots where I was most passionate: marketing.  In 2012 I started with CIPS Marketing Group in Los Angeles as their VP of Marketing & Sales, and in 2013 I became the President of the company.
This position allowed me the flexibility I desired, so I got more involved in my son's school. I became the first male 'room mom' in their history (and boy did I take the role seriously)!  Shortly after, I was tapped to run a private foundation (Save our School Foundation), a 501c3 developed to support my son's sadly underfunded public school in California (we have always been supporters of public education because of our humble beginnings).
As President of the Foundation, my focus was on PR, fundraising, and planning efforts, and that paired with running the marketing firm seemed to give me everything I needed. I thrived in my roles, all while supporting my son's classroom over the years for several hours each week. Zach also thrived and life was good.
THRIVING not Surviving.
I turned 40 in 2013 and saw this milestone as a time to reflect on where I was, and more importantly where and what I wanted for me and my family in the future.  I realized that my personal experience and background skewed my perspective and made it challenging to evaluate whether I was surviving or really thriving … and that's when the real work began.
I spent the next couple of years doing some more self-discovery, lots of reflection, and time spent with a therapist to work through unresolved trauma (if you are an adult that doesn't have a therapist on speed dial you're missing out!  We all have 'stuff' to work through, 'stuff' that's holding us back, 'stuff' that tells us we're not enough, etc. It's all part of the journey, an openness and willingness to dive in and deal with it is another thing I'm grateful for.)
In 2016 I decided, with the support of my son, that it was time to return home to the East Coast.  My mother and stepfather were aging and not in great physical health, and I was ready for real change professionally.  I was done running on empty for corporations that are insatiable and never get enough.
That year I supported the Board overseeing CIPS Marketing Group in the sale of the organization – the timing was eerily perfect. The nine-month M&A process was another great career experience (who said 'due diligence' couldn't be fun?). We sold the organization to a competitor, and from here my consulting career began.  I worked for several months as a Strategic Consultant helping to develop the transition plan – identifying redundancies between the business units and new marketing opportunities to leverage the larger operation, and helping new ownership focus on growth and employee retention rather than lay-offs and economies!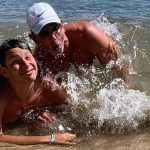 For the next year, I rested – focusing on time with my boy (did I mention he's awesome and my favorite person?), extended family, gardening, baking… being creative.  I discovered meditation and started a yoga practice (stillness is my nemesis you see – as an overachieving, Type-A, perfectionist attaining the perfect 'sit' and meditative experience is the elusive goal!). For the first time in my life, I found a sense of real balance.  So, while sitting still is not my favorite thing, after some time off I got some really good advice: work for yourself, find the work you really love (in my case marketing strategy and organizational development planning) – and DO THAT!
I was excited at the notion but scared to death (as I'm a guy that likes stability and wasn't sure I was ready). But in 2018, I took the leap and formally launched Thrive Development, LLC, a boutique consultancy that focuses on small and medium organizations as well as non-profits.  Since then, I've had the privilege of working with several companies in varying industries primarily in the areas of marketing strategy and implementation, organizational development, and financial planning.  It's been a blast!
Soon after relocating, my step-father became ill and died shortly after.  We decided Mom should move in with me and Zach in early 2019.  Being able to work a flexible schedule, doing work I loved, while caring for my mother and son was an incredible gift during this time. There was more healing and loving and a deeper understanding of who we were individually was found … which led to an even greater appreciation for what we had.  Life was good.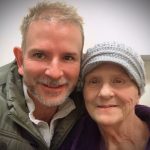 Zach continued to grow academically, acclimating easily to the new school as well as to south Jersey (we were appreciating the four seasons for the first time in his life – growing up a California kid he hardly knew what rain was, let alone fall foliage or snow!).  Sadly, later that year Mom was also diagnosed with lung cancer and life turned upside down.
Work was paused and Mom became our focus. For the next fourteen months, we helped her live her best life. It was an honor.
Mom passed in Oct. 2020. While devastating for me and my son, there was a sense of relief that she was no longer suffering and our lives were no longer dictated by medical visits and the rigorous schedule that comes with a terminal illness.  She was at peace, and so were we.
AS 50 APPROACHES (RAPIDLY!) I'VE FOUND PEACE, LOVE, AND A LOT MORE FUN!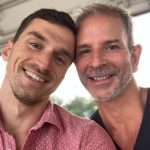 After taking some time to grieve and embrace a new life without my mother, I decided it was time to focus again on my career. And as I made that shift, I also found love … and got engaged to my partner, Jake, in November 2021.  It's clear that the universe thought I deserved a special love, maybe because of my challenging past or recent loss, but I try not to question the amazing relationship we have.  It's already been an incredible journey and we're just beginning!
And there was another shift in my career. While I loved independent consulting and the freedom and diversity of contract work, I missed working with a team.  I missed being surrounded by smart people I could learn from, collaborate and grow with… so I reached out to ECS.  After researching several local and regional consulting firms and a series of discussions with the partners at ECS, I joined the firm as a Marketing & Sales Partner in 2021.
I continue to work with some loyal Thrive clients and am excited about the work I'm doing with the ECS team.  As my son prepares for Junior year in high school and ultimately college, I'm eager to dive in and work with ECS clients to grow their businesses, create killer marketing strategies, and help them THRIVE.  I'm not looking forward to the empty nest phase ahead … but in anticipation of that, we just got a new baby (Lenny is our newest pack member and rescue dog).
I'm preparing for the next adventure life has to offer!
Manuel Collazo would love to talk with you about marketing … or about a whole variety of different topics! Reach out to him on LinkedIn or send him an email (mcollazo@thinkempirical.com).