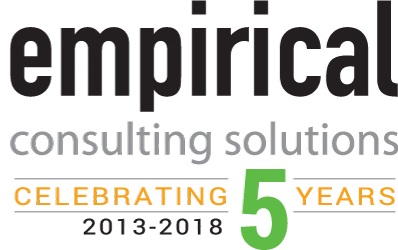 As we come upon the 5-year anniversary of ECS, we wanted to take the time to reflect on the journey and share with you where we are headed.
First and foremost, we want to thank all our clients for an amazing first five years!  Without you, we wouldn't be here.  And a special thanks to those who took a leap of faith early on, when we were just getting the new firm started and didn't have a multitude of customers.  You trusted our experience and our expertise to help you find innovative business solutions to drive your company's profitability.
ECS Highlights:
Founded in 2013 as an Operations Excellence consulting firm
2014 added HR as a functional area to support growing customer needs
2015 added Sales as functional area to help drive revenues
2016 moved offices to Narberth to accommodate the growing team
2017 added Marketing as a functional area to build lead generation
2018 added our 60th customer, and now working in our 26th industry
Our Original Guiding Principles Still Guide Us Today:
Do it all with Integrity – We hold ourselves to the highest moral and ethical principles.
Transparency in Everything – You always know what we're doing and how we're doing it, every step of the way.
We're not "Yes" People – We give you the good, the bad and the indifferent. We know the way to grow is through honest and upfront conversations.
Our Team:
The team started with Chris and Jason in 2013, and has now expanded to a team of 10 across operations, sales, marketing and HR.  We've been fortunate to find "A" Players that share our commitment to our guiding principles, while having the ability to talk strategy in the C-Suite and execute at the ground level.
Our team represents some of the best in business and each member is dedicated to supporting our customers.  Whether ECS players are functioning as a fractional executive or supporting you through a project, you know you're getting the best.  We thank them for their dedication!
The Next 5 Years and Beyond:
We remain dedicated to accelerating growth and profitability for our customers by using proven methodologies – starting with foundation of.  We are People, Process and Technology.
To that end, we're happy to announce our new partnership with PipeDrive CRM, which further allows us to deliver technology that is process oriented and people centric. Watch for us to add additional partners as we find technologies that improve our customers' businesses. And of course, we'll be adding to our team in order to give your more resources in more functional areas.
As always, we remain here for you.  If you'd like to chat with us about anything on your mind or a challenge you face within your company, feel free to reach out to us, the three ECS Managing Partners, at any time.
Chris Lee clee@thinkempirical.com
Jason Fisher jfisher@thinkempirical.com
Bill Morrow bmorrow@thinkempirical.com