My Journey to ECS: Francine Harris
I'm told that I started speaking in full sentences (in French by the way) by 18 months. By age 7, my family was convinced that the only logical career path would involve a lot of me talking. (Maybe that explains my stint as a campus telephone operator in college?) But though I didn't pursue acting, broadcasting or professional emceeing, I did the next best thing. I studied law. At least I tried to.
As a southern California native, I set my sights on a UC education and attended UC Irvine, studying political science and economics. Five years and two degrees later, I applied to law school.  But by then, my father had passed away and finances were tough. Student loans were mounting and panic set in. So, I made the painful choice to drop out and get a 'real' job.
Two weeks after selling my law books, I started working in the marketing department of a hi-tech start-up (CAD software) managing the company's international channel and VARs (Value Added Resellers). I traveled the world, teaming with a vast network of resellers to help launch their own marketing efforts.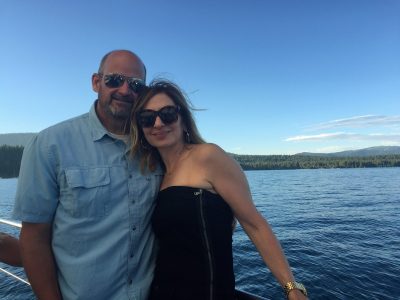 I continued to grow as a marketer, working specifically in hi-tech, healthcare and medical device industries in start-ups, scale-ups, and small- and mid-sized businesses.  In 20+ years as a marketer, I've been part of five acquisitions (MicroSim Corporation, Mindwave Technologies, Access360, FileNet and ServiceMesh) – helping position those companies before/during/after the acquisition process.  The last equity event occurred in 2014, giving me an opportunity to reassess my next career move.
Shortly thereafter, I received a call from one of my former CEOs asking for help. Could I provide marketing strategy and support for his new start-up on a consultancy basis? Yes, and Yes!
And thus, began a new career as a consultant and fractional marketing VP/director, working with high growth companies and start-ups such as Innovit, Ossur, ThinkTank, Trace3, YouMail and more. With my experience, I've been able to help companies focus on their toughest marketing challenges and really deliver maximum impact.  I help them assess their market opportunities, develop their digital and content marketing strategy and help construct the infrastructure and foundation to support metrics and reporting. But working solo has its drawbacks – and as a natural extrovert – I missed the collaborative energy, diversity and learning opportunities inherent with working amongst a larger team.
Enter ECS – an amazing group of smart, interesting, generous minds who come to work everyday with one common goal: to partner with the clients and deliver business outcomes that matter.
Plus some other questions we had for Francine:
What are the similarities between law and marketing – how does that transition happen?
The shift from studying law to a career in marketing was most definitely a calculated risk.  But I went with my gut (and an eye on my student loan balance), and the rest is history.
Both disciplines require a passion for research and an ongoing curiosity to learn about people.  It's about uncovering truths, knowing your audience and then connecting with that audience. Perhaps it's simply the process of telling a story. The pains, what motivates them. What do we want and need to communicate? What does the reader need to learn or know?  What's the action we want them to take?
What areas of marketing are you most passionate about?
It's great fun to work on a beautiful logo, tagline and social media feed.  But I'm more interested and in helping a client create a solid marketing strategy and doable tactically plan with an infrastructure to support it. Because without it, how can you measure success or modify your activities?  (However, the storyteller in me is passionate about the content – putting pen to paper and writing compelling and interesting copy that generates action.)
What types of teams do you like to be a part of – and what works about the ECS team?
No matter who/what/where we are, 2020 was a challenge.  We've had to find new ways to work, interact and distance learn while also taking care of our mental health and well-being. Personally, and professionally, it crystallizes that life is too short to not do what you love. That means interesting, meaningful hands-on work in a fast-paced environment that helps push business and technology forward. It means collaborating with insightful and diverse minds. It means making an impact with great ideas and equally amazing results for my clients.
That's why joining the ECS team was so ideal. I get to do what I love alongside a group of experienced, interesting, smart and funny professionals who are insanely committed to the companies and teams they serve.
What do you do for fun – what are your hobbies and interests?
I'm an avid long-distance runner and fitness buff with an interest in true crime podcasts, Chicago blues and period novels. I'm also a big fan of weekend camping/hiking trips, family vacations and time in the kitchen trying to replicate my grandmother's Michelin-worthy gnocchi recipe.
What do you love about the west coast?
Is it a cliché to say the weather?  (My apologies to those still shoveling snow off their driveways.)  Aside from our beautiful beaches, California's landscape is so varied across the state. There are mountains and beautiful valleys, lakes and deserts, and – barring the annoying traffic – all can be reached within an hour or two.
If you weren't able to pick up from the interview, Francine loves to talk business and marketing and is happy to talk about the challenges you face and the questions you have! Read her full bio here.
Be sure to connect with Francine on LinkedIn – and feel free to drop her an email (fharris@thinkempirical.com).  She'd love to connect with you!